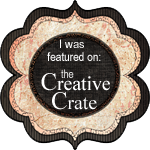 Everyone has a space in their house that they just don't quite know what to do with. I did too. Our hallway needed something at the end- but what??
I had photos of the kids at the end of our hallway in IA, but I wanted to do something differently. And to be honest, framed photos are kind of the boring, go to, I'm too lazy to figure anything else out solution.
SOOOO....after scouring the interwebs for inspiration & ideas, I decided to make it an art gallery of sorts.
First I found this vinyl decal on
Etsy
. ($14) Have you been to that site?? I could spend DAYS just looking at all the fun stuff on there, but that is another blog post in itself.
I decided that I didn't want white as was shown and instead ordered it in maroon.
I purchased a thin piece of wood (luan, maybe?) from Hobby Lobby for $6. Its about 18" x 30" give or take a little.
A good blogger would have taken photos of the steps, but I'm a newbie & to be honest, I finished this project before the blog was up and running. I am just proud of it so I thought I would share- forgive me if you are a friend on FB & have already seen it.
Anyways, I painted the board with acrylic paint in antique white which I had on hand from another project in the past. The husband applied the decal for me- apparently I wasn't working fast enough & he wanted the dining room table to be functional again. (Reason why the basement craft room can't come fast enough!) He then drilled holes for me so I could add some wire to hang the sign. It now looked like this:
In the hallway, I put up some of these:
Followed by some of this:
See where I'm going??
A bunch of clothespins, and a lot of digging through all of the little's folders, coloring boxes, and school work and TA DA!!! We had this!!
And now, since the little's decided that it needed more....we have this! Total cost: $20 since I had hooks, clothespins, and twine on hand.
The kids love that they can add things & take things down easily. We since have added a few tacks & clothes pins for the extra artwork. It isn't organized, It isn't
perfectly framed children's art
(I saw several of these types of galleries & while they look nice, this mommy doesn't find them practical.) I love that its a way of showing the little's art work & its out of the way. The littles create art work on a daily basis & this is the easiest solution for me- I dislike having stuff on my fridge- personal pet peeve. It is in a visible space without being overtly in your face. What do you do to showcase your little's masterpieces??